When her Cronos flight landed in the newly rebuilt, Port Harcourt International Airport, a Ghanaian passenger was the last to get off the plane. Even then, she had to be persuaded.
Long used to airport terminals in Nigeria that are barely functional, she refused to believe that the swanky airport was in Nigeria. The flight crew had to reassure her that this indeed is, Port Harcourt, Nigeria.
All around the world, Airport terminals are no longer just buildings with long chairs where passengers wait to board aeroplanes, people now require they have a personality. They want it to create an ambience where people are happy to shop without guilt, to feel at home while being away.
Nigeria has been unable to achieve this with its airports for a long time but that is changing. Two airports terminals: the Port Harcourt International airport and the Nnamdi Azikiwe International airports with better facilities have been opened to the public.
The projects were started in February 2014 with $500million loan from China Exim Bank and $100million matching fund from the Federal Government. Other airports slated to be rehabilitated include the two in Lagos, and the Kano airport
Air travellers will heave a sigh of relief as these terminals are now working when there is high demand for the facilities.
President-Mohammadu Buhari opened the newly rebuilt Nnamdi Azikiwe International Airport terminal on Thursday 20th Dec 2018 and Asky airline operated the inaugural flight to the new terminal seventeen days later. Thereafter, Ethiopia Airlines began daily flight operations from the terminal on Jan 24.
Asky Airlines has commended the Government of Nigeria for the newly inaugurated international terminal at Abuja's Nnamdi Azikiwe International Airport expressing its commitment to the route by being the first to land at the brand new ultra-modern terminal.
Add caption
The crew and passengers were warmly welcomed in the modern setting of this new terminal and congratulated the local airport authorities on the quality of its infrastructure.
Asky reiterated its commitment to working with local authorities to ensure the successful implementation of these new opportunities, which will certainly improve the movement of goods and people in a region with undeniable growth potential.
BusinessDay's checks show that other international airlines will commence their flight operations in due course.
Abuja airport terminal which is approximately 56,000sqm has the capacity to process 14million passengers per annum. The new terminal has 66 check-in counters, five baggage collection carousels, 16 immigration desks at arrival, 28 immigration desks at departure, eight security screening points, eight-passenger boarding bridges and remote boarding and arrival however only two are currently installed.
Other facilities at the Abuja airport include two food courts, four premium lounges, 22 guest rooms and spa, 16 airline ticketing offices, visa on arrival and port health facilities as well as praying area, more than 3,000sqm of duty-free space and more than 5,000sqm of lettable utility space.
Port Harcourt Airport Terminal
The Port Harcourt International Airport became operational in the year 1979. The old terminal has been servicing the oil-rich Niger Delta region that comprises Rivers State, Bayelsa State, Delta state, Cross Rivers and Akwa Ibom.
Other South East region States such as Abia and Imo States are equally benefiting from the services of this Airport. Few years ago the passenger traffic outgrew the old terminal which comprises both international and local operations, hence the need for expansion.
The Federal Government of Nigeria gave approval to FAAN for the construction of a new terminal. The foundation for the new terminal was laid on March 1, 2014. It was constructed over a period of 4years by the Chinese Construction Company.
The new terminal was commissioned on October 25, last year by President Mohammadu Buhari. The terminal became fully operational on Friday 25th of January 2018.
Movement of agencies and installation of technical facilities and other sundry issues were concluded and the first flight operation took off on Friday 25th of January 2019, at about 1300hrs with the arrival of CRONOS airline from Accra Ghana
This was followed by Lufthansa from Frankfurt Germany and AirFrance from Paris France, at about 1900hrs.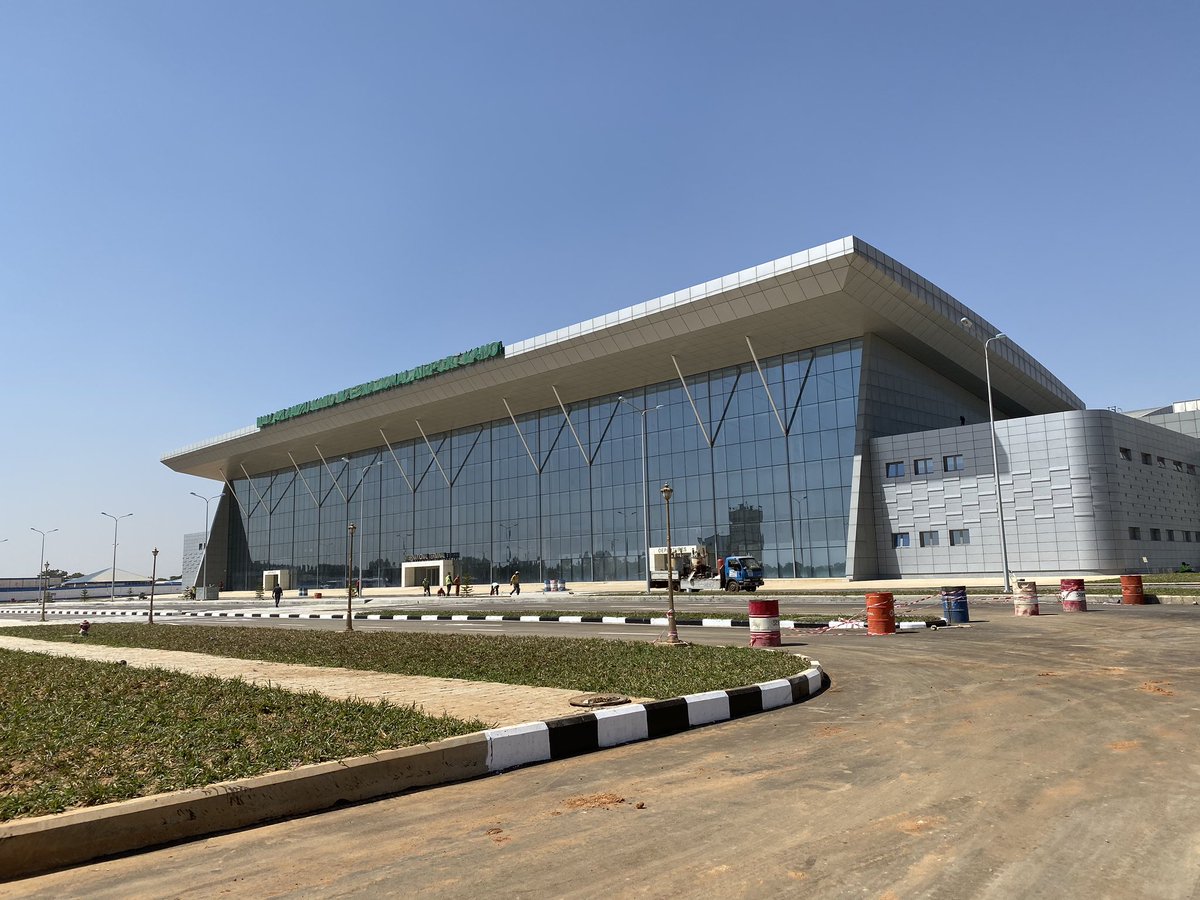 Facilities at the new PH terminal
Port Harcourt Airport terminal which is approximately 27,000sqm is expected to process five million passengers annually. The airport has 24 check-in counters and 12 currently installed, three baggage collection carousels with one currently installed; 16 immigration desks at arrival,

eight passport control desks at departure, four-passenger boarding bridges plus remote boarding and arrival however only one is currently installed.
Other amenities at the new Port Harcourt terminal include two food courts, four premium lounges and spa, airline ticketing offices, duty-free space and lettable utility space.
No doubt the economic implications that will result from the use of these new terminals are enormous. Olaoye Oluwafemi, an aviation consultant and executive director, Raziela Engineering services told BusinessDay that a bigger, modernized and improved capacity terminal opens up the potential for a regional travel hub, with an immense spin-off potential.
"The more passengers can be processed and transferred to connecting flights, the more airlines look to such terminals for transition or connecting services. I cannot overemphasize this as a perfect example is Frankfurt airport and it's wide reach to Europe, DXB airport and it's connectivity ability with the middle east and the rest of Asia.
"The next step for Nigeria, apart from opening more locations are to provide air maintenance services or at least tanker services for refuelling, thus domesticating the financial implication of such transactions. This I believe will go a long way to reducing the cost of international air travel, as well as improving the connection of people for improved business partnerships," Oluwafemi said.
He noted that the decision of the Goodluck Jonathan's administration to carry out these new terminal constructions must be highlighted and commended as a masterstroke, setting the pace for regional dominance in air travel.
John Ojikutu, member of aviation industry think tank, Aviation Round Table (ART) and chief executive of Centurion Securities told Businessday that the airport terminals main advantage is holding more passengers traffic than before and therefore would attract more air traffic or more airline flights frequencies and invariably increase in the aeronautical and none aeronautical Internally Generated Revenues.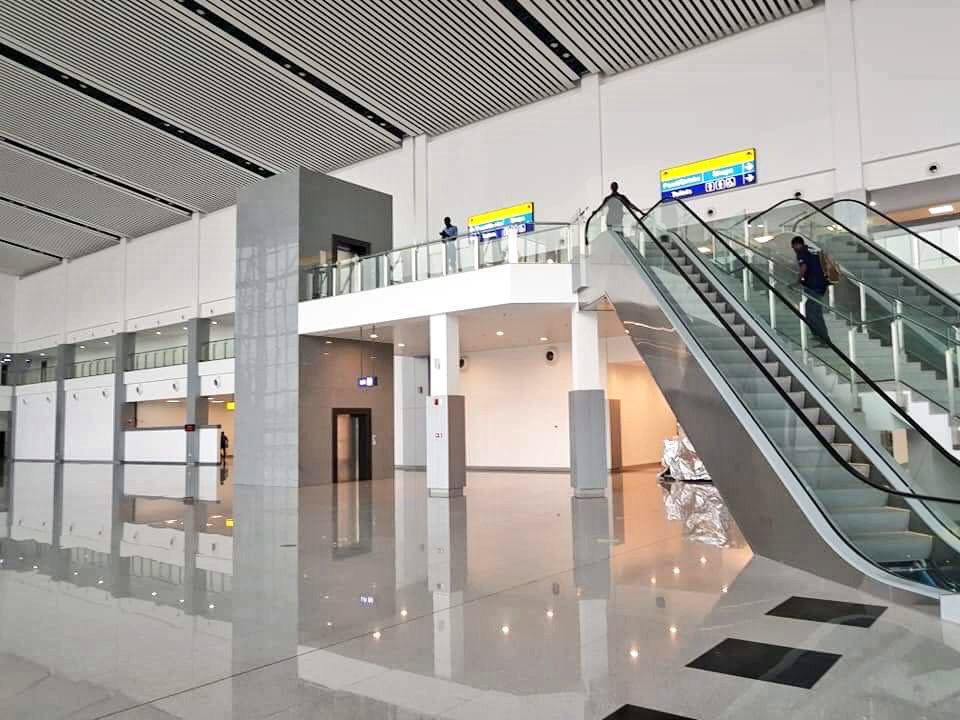 A passenger who simply identified himself as Joseph who recently used the new Abuja terminal said the experience was amazing.
According to him, "For the first time in Nigeria, I felt an ambience of comfort, hospitality and quality just using the new Abuja terminal.

The use of the new terminals is of great significance to air travel passengers, airlines and Nigeria Vis-à-vis terminal operations, increase in passenger traffic and ease of travel, for passengers who would have had to connect through Lagos or Abuja.
The new terminals open up other geo-political zones to International travel via direct flights is always a win situation for Nigeria. It opens up the potentials for tourism, business and the effective use of Bilateral Air Service Agreement (BASA) within partner countries.
"I have lived in Japan for a long time and I have seen good airports. This is a step in the right direction. We were cleared at the immigration in less than ten minutes and this is an improvement," a passenger said upon arrival at the Nnamdi Azikiwe International airport terminal.
An Ethiopian airline pilot also commended the state-of-art facilities at the Abuja new terminal. "This terminal is very spacious and I hope to come back again."
Several other passengers feel good and excited seeing this terminal come to full operational status.

Such is the beautiful ambience this terminal creates that passengers mistook it as a foreign country.