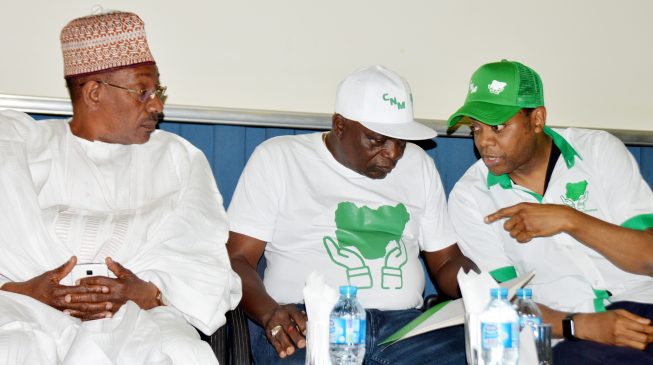 The political movement proposed by former President Olusegun Obasanjo in his letter to President Buhari, was launched at the Yar'Adua Centre, Abuja, today.
Although Obasanjo was absent at the launch, former governors Donald Duke and Olagunsoye Oyinyola, were present at the launch. Duke has since indicated his interest to run for president.
Speaking to newsmen, Oyinlola, who is a former governor of Osun State, said the movement is not yet a political party.
''If and when we come to an agreement that we must metamorphose into a political party, then we will. We're not a political party, at least, for now," he said.
Obasanjo in his letter to President Buhari said Nigeria is dire need of a new political group. The former president opined that neither the ruling All Progressives Congress (APC) nor the Peoples Democratic Party (PDP) could give Nigeria the leadership it deserves.
More Photos:
"We need a Coalition for Nigeria, CN. Coalition to salvage and redeem our country. You can count me with such a movement," the elder statesman had said.
"Last time, we asked, prayed and worked for change and God granted our request. This time, we must ask, pray and work for change with unity, security and progress. And God will again grant us. Of course, nothing should stop such a Movement from satisfying conditions for fielding candidates for elections.
"Coalition for Nigeria must have its headquarters in Abuja."
However, Obasanjo was not at the unveiling ceremony.
There are reports that Oyinlola, who is the coordinator of CN, is finalising plans to resign his appointment as the chairman of the National Identity Management Commission (NIMC).
Buhari appointed Oyinlola last year.
More details later...