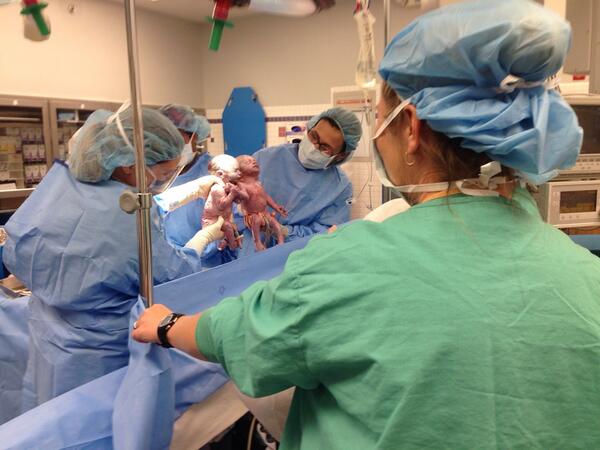 Jenna and Jillian Thistlebate marked their arrival to the world in a very special way. The twin girls garnered plenty of attention after they were spotted holding hands immediately after birth. "It was remarkable," their mother Sarah explained, "I think half of the OR was crying." Jenna and Jillian are monoamniotic twins, meaning they share the same placenta and amniotic sac.
According to About Health, 1% of twin pregnancies will result in monoamniotic twins. Given that there's about a 3% chance of having twins (according to Baby Center), the chances of a pregnancy resulting in 'mono mono twins' is .03%. Parents Sarah and Bill were worried upon learning this news, as there is a great risk for complication before birth, largely due to possible cord entanglement or cord compression. "I had a lot of anxiety...when I first found out they were 'mono mono' twins," Sarah said. According to About Health, the survival rate for these types of twins is roughly 60%.
Six months later the twins are doing well and are still inseparable. The parents admitted that they sometimes have trouble telling apart their daughters. But we can't blame them. The twins looks healthy and happy together, and mom and dad couldn't be more proud. "I never thought being a mom would be this enjoyable," Sarah said. Bill chimed in, "It's hard to express in words how amazing this whole journey has been and how amazing they are."
Watch the video below to see the incredible story of twin sisters Jenna and Jillian. The two can still be seen holding hands, six months later. Leave us a comment and let us know what you think of their journey.