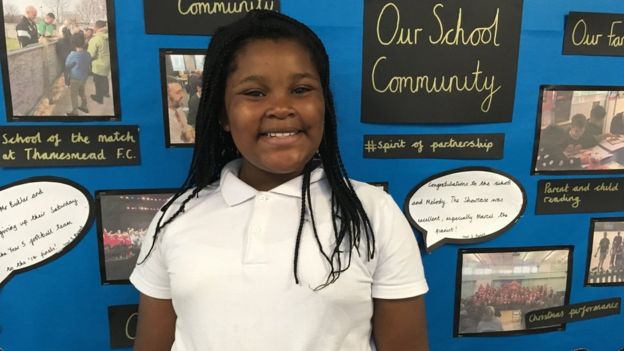 Sharon Kashopefoluwa Olasupo was interviewed by the BBC
"It helped me not to react as quickly and think about the way I'm dealing with the kids, rather than going off at the deep end," says Natalie.
"It means a lot, it's a lot calmer - in a house of six kids - it's a lot calmer."
Natalie is one of around 150 parents who has attended a course at her local primary school - Lessness Heath Primary in Belvedere, London - designed to help parents develop strategies to cope with the rigours of family life.
The programme is part of a wider drive by the school to improve the mental health and wellbeing of everyone involved with it, which has seen it awarded the National Children's Bureau and Optimus education's new Wellbeing Award for Schools.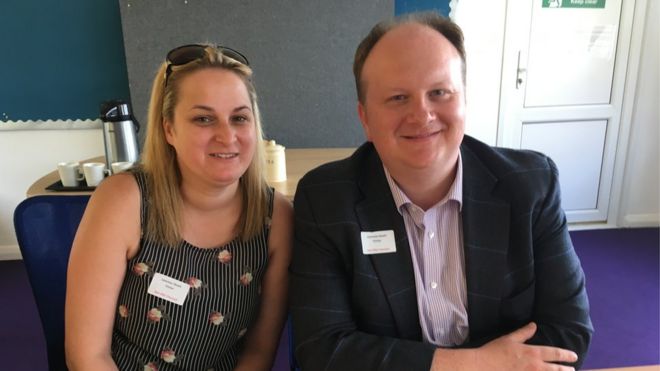 "I'm able to deal with my daughter's behaviour better, I've been given the tools to deal with that," says Chantelle, who's attended the course offered at the school on Friday mornings.
"I've learnt to change the way I speak to her - I was constantly screaming at her, she was screaming at me, now I think about what I'm going to say.
"I don't feel like a single parent any more - everyone's there to support me."
For Sam and Amanda, the school's parenting programme has helped them address some of their daughter's behavioural issues.
"We've got a toolbox of strategies and ways to help her. Before, that tool kit wasn't there - we were just Googling," says Sam.
"We find we can take what we've learnt in the classroom home - we can use the same language that they use at school.
"Sometimes you can feel quite lonely and isolated, so it's just good to know we're not the only ones going through these challenges."
Amanda adds: "I'm a lot more confident - everyone's got the same kind of issues, it's really helped me."
Kelly Hannaghan, wellbeing leader at Lessness Heath, says: "It's an empowerment programme for parents, it's a space for parents to recognise their own needs and those of their families.
"We see it as families adding value to their lives - their confidence has grown and their worth.
"Our vision is to put wellbeing at the heart of our school and to embed wellbeing through the whole school community."
Wellbeing 'helps us relax ourselves'
But the focus is not only on helping parents to understand their own and their children's emotional needs - helping children to find ways to manage their emotions and stress levels is also key.
Pupils at Lessness Heath have mindfulness lessons and yoga sessions and learn breathing techniques, while for some there is the opportunity for one-to-one sessions with the school's wellbeing leader in a special therapeutic room.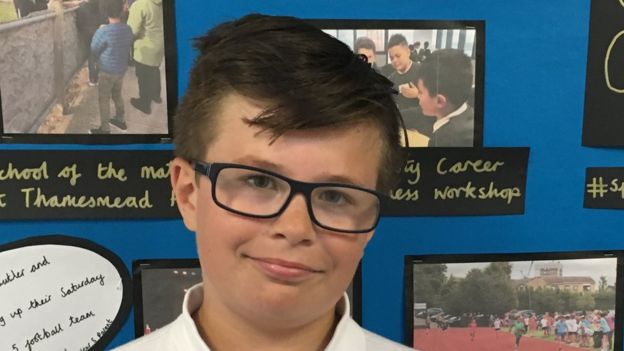 Sidney, 10, says: "Wellbeing means a lot to me because in Year 5 I had loads of problems and I didn't feel like going to school and then I found out the school could help me.
"It's really helped me understand how wellbeing can change lives because it has changed it for me."
Sharon, eight, says the wellbeing ethos at school "helps us relax ourselves".
"What wellbeing means to me is when people look after not just themselves, but others as well."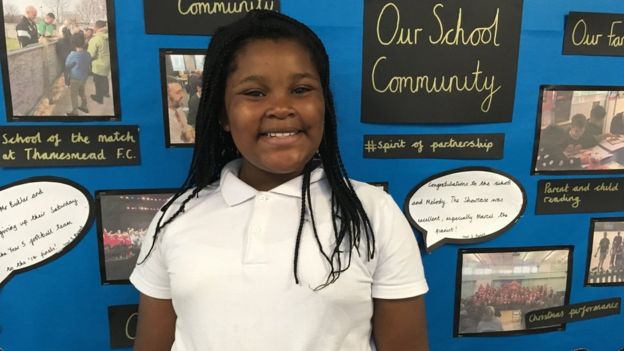 Billy, 11, says: "We can take it [wellbeing practices] to our secondary school and to our adult lives. I'm going to carry it with me.
"Sometimes when I get told off at home, I'm feeling annoyed, but then I sit on my bed and I start doing the breathing activities we were taught and it really calms me down."
The school's Senco (special educational needs) co-ordinator, Clare Freeman, says the new approach means parents and children trust the staff more.
"Parents felt defensive, but now they see we're trying to help them. We're able to talk to them earlier, whereas before they thought we were judging them.
"It helps the teachers because the parents are working with us - they ring up ahead if a child is having a bad morning, just to warn us."
'It was a risk at the beginning'
So how does the school justify employing a wellbeing leader at a time when many schools say they are feeling the pinch with budgets?
Head teacher Kate O'Connor, who took up her post two years ago, says the school - which had been put in special measures by Ofsted - needed a change of culture.
"There wasn't a team atmosphere, there was some poor behaviour, children being sent out of class and a sense of belonging that the school just didn't have.
"I knew there was a need for the children and I knew there was pressure on my staff.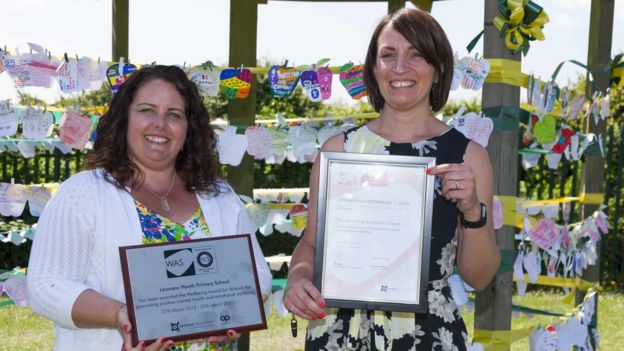 "We are classified as a deprived area - we've got 18% of pupils on free school meals, which is quite low, but that doesn't reflect our families' situations.
"We have a lot of families that are just getting by - a lot of families doing multiple jobs.
"I could see, from the behaviour of the children, knowing the social make-up of the area, that there was a need and where the school was, being in special measures, I knew there was a need.
"It was a risk at the beginning but I knew the school needed to change its ethos and culture.
"I had to justify it [a wellbeing specialist post] to the governors as value for money with no input at that time - and they backed me."
Chair of governors Linda Thomas says the post has proved to be a success, with attendance improving and families feeling more involved.
"I would say that you can't afford not to have one, but you have to have the right will to do it and the staff have to be behind it."
The school is now planning to share its practice with other interested schools and hopes to raise funds by running courses for other education practitioners.
"It isn't just a hard-nosed business decision, it's going to affect others," says Linda.