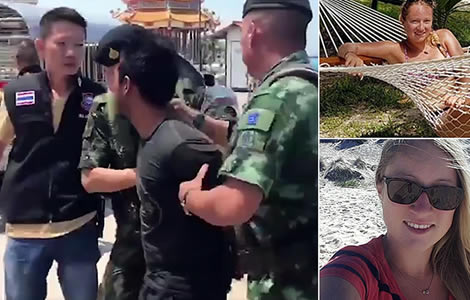 A 27-year-old German tourist was viciously raped and murdered on Koh Si Chang off the Chonburi coast on Sunday.
The murderer attempted to hide her battered and bloodied body on a hillside.
A police manhunt through the afternoon resulted in the evening arrest of a 24-year-old Thai man who has admitted to the crime.
The 27 year old victim who police understand had been staying in Pattaya and was taking a day trip to the island after boarding a boat in Sri Racha. She had arrived at 12 noon and rented a motorbike.
Another tourist looking for a place to take pictures found her partially hidden under rocks and bracken on the hill leading up to the Chula Jorm Klao flag in the Thathewawong sub-district.
Koh Si Chang police on the scene saw only an arm protruding from large and small rocks. The victims face and head had been bludgeoned and there was blood all over her legs one of which was broken behind the knee.
She was wearing underwear and a knee length skirt and had been dead for at least 5 hours, reported Thai Rath, adding that her neck had been broken.
A manhunt was conducted on the island with everyone coming and going investigated. At the end, the suspect was arrested.
The suspect was named as 24 year old Ronnakorn Romreun. After a three hour interrogation he has reportedly admitted to the crime.
According to local media, he had approached the victim and been rebuffed. He then followed her and raped her before bludgeoning her to death to cover up his crime.
He has been charged with rape, murder and concealing a corpse.