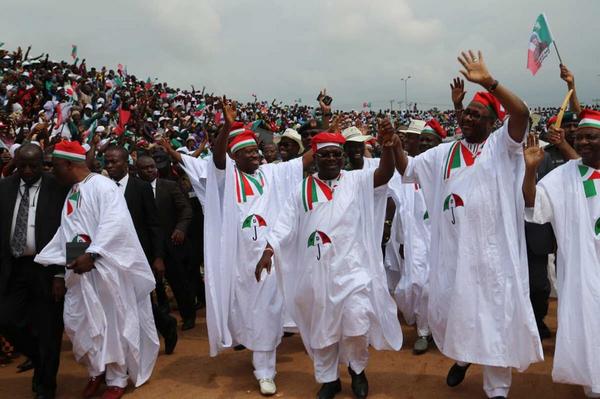 There was palpable tension across states under the rule of the All Progressives Congress (APC) on Friday as the entire machinery of the Peoples Democratic Party (PDP) moves to Osun State today for the grand finale of the party's governorship campaigns.
President Goodluck Jonathan, Vice President Namadi Sambo; the party's Board of Trustees chairman, Chief Tony Anenih; National Chairman of the party, Alhaji Adamu Mu'azu and 16 governors are expected at the event.
The chairman of the party in Osun State, Alhaji Gani OlaOluwa, told Saturday Tribune that the party was serious about taking over the state, declaring that "August 9 is Osun people's date with destiny when they will take their state back."
It was also learnt that apart from the grand rally to be held in Osogbo, the state capital, today, a stakeholders meeting will also take place on Sunday with all PDP leaders in the country in attendance.
Meanwhile, the massive deployment of security operatives in the state, which started on Wednesday, continued through Friday with operatives of the State Security Service (SSS) extending their presence to other major cities in the state.
The APC has, however, promised to shame the PDP on August 9, presidential interventions notwithstanding.
A statement by the Osun State commissioner for Special Duties, Mr Ajibola Basiru, reads in part: "We are aware of the imminent descent of Mr. President, 16 state governors, members of the Federal Executive Council, National Assembly members and other PDP leaders to Osogbo town, on Saturday 2nd August, 2014. We sympathise with Mr. President and the entire PDP crew that they had to make this face-saving journey even when they know the unmarketability of their candidate and party in Osun state.
"We happily inform the President that his product (candidate), party and politics is utterly unwelcome and our good people would make our resolve loud and clear on the 9th of August, 2014 when they will reject his candidate's dubious rescue mission," the statement said.