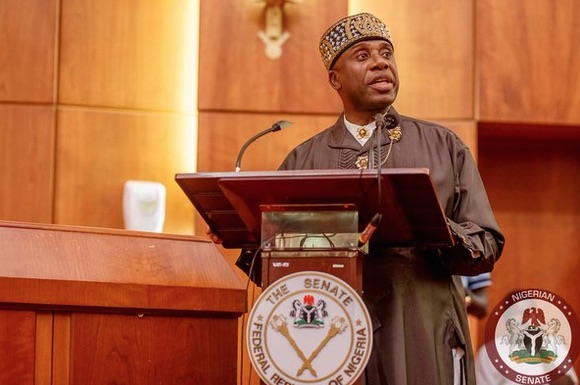 Senators belonging to the Peoples Democratic Party, PDP, and their All Progressives Congress, APC, were, yesterday, preparing for a showdown over different positions on the confirmation of two of 16 remaining ministerial nominees.
It was, however, learnt that Senate President Bukola Saraki was determined to weigh in on behalf of the former governor of Rivers State, Rotimi Amaechi and the ministerial nominee from Cross River State, Usani Uguru. The duo had been caught up in a grudge war mounted by PDP senators.Amaechi-saraki
Amaechi is held in contempt by the PDP Senate caucus for his role in the defeat of the former ruling party in the last round of elections. Uguru brought himself into the bad book of the PDP Senate caucus when, during his screening, he said "God forbid" to a question as to his membership of the PDP.
Following the end of the screening of the nominees yesterday, the PDP Senate caucus held a meeting where they reportedly took a position against the confirmation of Amaechi. The senators were said to have resolved not to consider Amaechi's nomination unless the report of the Senate Committee on Ethics and Privileges on the petitions filed against the former Rivers State governor was brought forward for consideration first.
Last five nominees screened
Five nominees were screened, yesterday, bringing to an end, the exercise that commenced about three weeks ago.
The five nominees screened were former Vice-Chancellor of Imo State University, Professor Anthony Anwuka (Imo); financial expert and medical doctor, Okechukwu Enelamah (Abia); newspaper columnist, Adamu Adamu (Bauchi); former Executive Secretary of National Hajj Commission, Mohammed Musa Bello (Adamawa), and Aisha Abubakar (Sokoto).
However, the confirmation exercise which was expected to commence