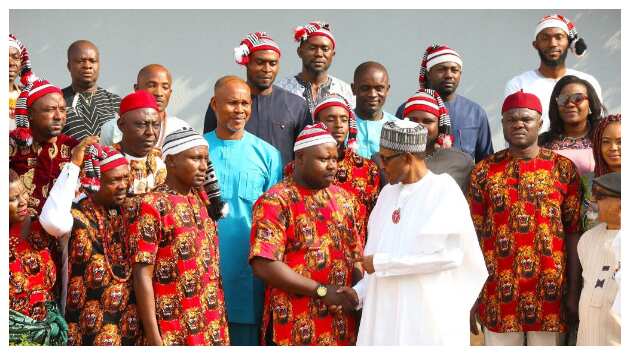 I get so upset and irritated anytime I read tweets, posts or articles from any supposedly enlightened and exposed Igbo man that endlessly harps on the need for Ndi Igbo to bend over and reach out to other ethnic groups so that one of them can become the President of Nigeria in 2023.
Who told these guys that Ndi Igbo are looking for integration or desire to be sucked into the current systemic/ fraudulent Nigeria STRUCTURE?
I get upset and irritated because the theoretical foundation of their argument always assumes that the unity of Nigeria or welfare of Ndi Igbo can only be achieved once the Igbo man grovels before other ethnic nationalities/compromises our egalitarian believes so as to get one of their own to be elected as the President of Nigeria.
I wish for the umpteenth time to submit that this lame theory that the Igbo nation must reach out compromisingly to other ethnic nationalities so that one of their own can become President of Nigeria will neither bring prosperity to Nigeria or elevate the welfare of the average Igbo man in Nigeria until we all agree to tackle the root cause of Nigeria's woes, which is the FRAUDULENT 1999 CONSTITUTION.
Nigeria today as presently structured and constituted is a hellhole, prison and putrid camp for all her inhabitants. The current fiscal, governance, socioeconomic and political framework of Nigeria will continue to breed extreme poverty, misery and death for a majority of her inhabitants until we overhaul her constitutional foundations back to what we used to have in 1960.
By the way can anyone point out to me what superior infrastructure, human capital and socioeconomic development Bayelsa State enjoyed or had for having their Son GEJ as President for 5 years and Vice President for 3 years?
I need someone to point out to me, those superior security, socioeconomic, infrastructure, human capital and welfare development advantages that a majority of the good people of Katsina state or Fulani had over other Nigerians for producing two Presidents and one Vice President?
WHAT NDI IGBO NEEDS TO DO NOW TO GET HER BEARINGS IN NIGERIA?
It is very clear even to the blind, deaf and dumb that Nigeria as presently constituted and structured cannot work. A majority of Ndi Igbo (except the minority efulefus, power lusting and greedy gluttons in our midst) are at the forefront of the sustained and endless agitation for a total restructuring of Nigeria back to her 1960 constitutional, fiscal, autonomous and resources control architecture.
Ndi Igbo are very unapologetic about our position here. We will never compromise our position on this or compromise our will to help rescue Nigeria and the rest of Africa by bending over to be raped by uncircumcised folks in the name of appeasement.
Nigeria in 2018 made an estimated $47billion crude oil sales that represented over 95% of our export earnings. We got only $2.2billion by way of Foreign Direct Investments. Out of this $47billion/N14.3trillion crude oil sales, only about N2.7trillion/$8.8billion came into the Federation account to be shared by the three tiers of governments in Nigeria.
A significant portion of this gross earnings were lost to cost of production, PSAs, ghost petroleum subsidies expenses and outright looting.
THIS IS HOW PATHETIC NIGERIA IS AS A COUNTRY. THIS IS LARGELY THE PALTRY AMOUNT THAT WE GENERATE AS EXPORT EARNINGS FOR A COUNTRY THAT IS SO DEMOGRAPHICALLY BLESSED AS NIGERIA. THIS IS THE PALTRY AMOUNT THAT SOMEONE DESIRE NDI IGBO TO BEND OVER TO BE RAPED SO THAT THEY CAN CONTROL IT.
Most of those who put forward this lame argument about Ndi Igbo compromising and bending over so that they can occupy Aso Rock and help to deepen the extreme poverty state of Nigeria as presently structured, are very unaware that the amount of Diaspora remittances, (both formal and informal) that gets into Nigeria from Igbos in diaspora is twice what Nigeria receives into her federation account annually as export earnings.
Anyone, who tells you that an Igbo man will emerge President in 2023 under the current criminally contrived quasi-unitary system of government and gang up against Ndi Igbo is just being deceitful and smart by a quarter.
WHAT NDI IGBO SHOULD DO NOW, with the active moral suasion of Ohaneze Ndi Igbo and other Igbo socio-cultural group is to help beg our elected Ndi Igbo political office holders (especially, the governors) in the 7 states that have significant population of Ndi Igbo to bring good governance to our people and pursue regional economic integration.
RATHER than being deceived into pursuing an obviously elusive Igbo Presidency Agenda for 2023, we can look out for that candidate, Yoruba, TIV, Hausa, Birom etc. who appreciates/accepts the urgent need for the total restructuring of Nigeria to enter into power sharing agreements with and extract concrete commitments that will boost the reinforcement of the Igbo economic dominance in the land.
Ndi Igbo did not support Atiku Abubakar in 2019 because he picked Peter Obi an Igbo man as his running mate. NEHI!. We supported him fully because he promised RESTRUCTURING OF NIGERIA and SECURITY OF LIVES AND PROPERTIES. We also saw in him a broad minded Nigerian, like late Umaru Musa Yar Adua, who is not atrociously/irredeemably clannish and provincial like the current man on the saddle.
Ndi Igbo should work to put a wedge on the current atmosphere of gang up against us and shop for that person, other than an Igbo man who will agree to unconditional RESTRUCTURING OF NIGERIA
Pursue the establishment of International Sea and Air gateways out of Ala Igbo
Pursue the establishment of Consular/Embassy Presence of the top Asian, European countries and America in Enugu and Owerri.
Pursue the establishment of integrated rail infrastructure connectivity in the SE/SS/SW states that is PPP driven (The Governors of the SS/SE states can pursue this on their own) but will still need the support of the FG since railways currently belong to the exclusive legislative list in the current fraudulent 1999 constitution.
Ndi Igbo has the numbers and capacity to influence who becomes the Next President of Nigeria in 2023 and secure the needed concessions and policy supports that can help us grow the South East economy from its current $65billion size to $150billion in the next 4 years. We have the manpower, demography and natural resources to accomplish this.
Ohaneze Ndi Igbo, the Igbo World Congress and other Igbo interest protection groups should be at the forefront of selflessly pursuing the Igbo agenda in Nigeria and getting our people across the whole Nigeria landscape and in diaspora to become more politically conscious.
The penchant to play to the political correct gallery by some greedy and power lustful abject minority amongst us must be discouraged and totally rejected.
The mass rejection of Ruga has shown that Ndi Igbo will never tolerate any oppression of whatever kind from any quarters. Let's work together to rebuild our land.
God Bless Us
OBIARAERI, Nnaemeka Onyeka