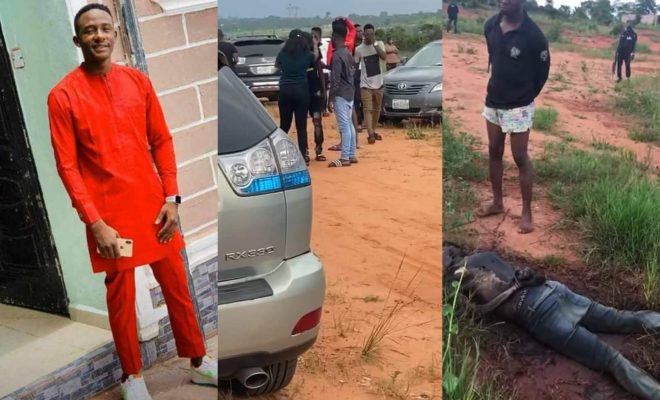 A 21-year-old young man, identified as Micah Isaiah but also known as Leo Wire has reportedly been killed by his friend an ex-militant out of jealousy.
According to reports surrounding Isaiah's death, he was murdered on May 12th around Willow Wood hotel in Owerri, Imo state's capital.
Isaiah was reported to be close friends with his murderer —a supposed ex-militant— who hired some men to kidnap Isaiah after Isaiah acquired a Lexus SUV.
Killer of the young Nigeria man, Micah Isaiah also known as Leo who was murdered after being kidnapped earlier this week has been found
The friend, however, decided to kidnap Leo and then took him to Anambra State, where his Lexus es350 was sold and made away with the valuables of the deceased friend.
The suspect, that is, the jealous friend, confessed he hired people who appeared in military dress code and abducted his friend to their scene of the crime.
It's reported that Isaiah's friend became jealous after he bought his new car. This prompted him to kidnap Isaiah with the aid of other men who disguised themselves in military uniforms.
They forced him into "unidentified cars without plate numbers" and drove him along with his car to Anambra, where they held him hostage and demanded N4million as ransom.
Isaiah's abductors contacted his younger brother to pay the ransome but he couldn't afford it as he had just buried their mother — a burial Leo didn't attend because he had been abducted.
When the men didn't receive the ransom, they emptied Leo's account and then killed him.
It's reported that one of the suspects was caught while making plans to sell Isaiah's Lexus-350 SUV. With this, they informed the SARS division in Owerri, who took action and tracked his phone, his car, and the bank account the money was transferred into.
One of the kidnappers was nabbed in the process who then took the SARS operatives to the bush where Leo's body was dumped.