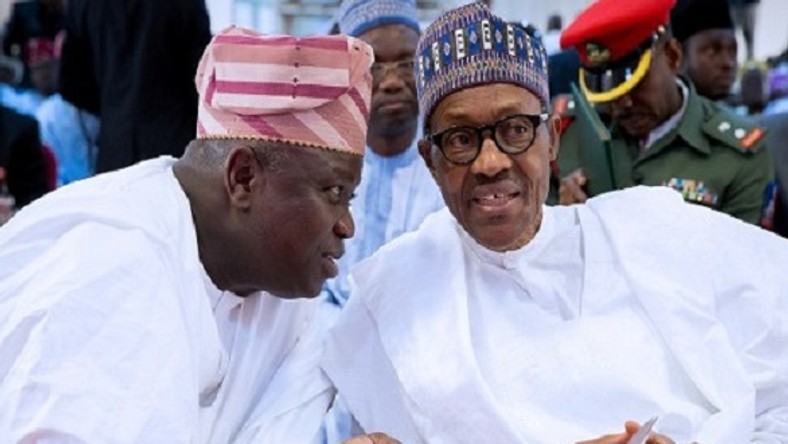 Shock and bewilderment were on the faces of many on Tuesday as former Governor of Lagos State, Akinwunmi Ambode failed to make the ministerial list of President Muhammadu Buhari.
Prior to the release of the ministerial list earlier today, aides, loyalists and fans of the former governor of Lagos State, Akinwunmi Ambode, had been venting and ululating about his purported ministerial nomination. And they backed their enthusiasm with believable arguments.
When news later emerged that the president had decided to have an expanded cabinet of 42 – 36 to represent each state of the federation and six to represent the geopolitical zones – it was further victory celebrations for the Ambode people who reckoned that the expansion was to accommodate disgruntled party members like him. Alas, the release of the list earlier today has thrown Ambode and his supporters into heartrending mourning.
Many had expected Ambode to be one of the names to from Lagos to be appointed minister, but he and his followers were disappointed as his name was conspicuously missing. Rather, former Governor of Lagos and Minister, Babatunde Fashola retains his seat while former Speaker of the Lagos State House of Assembly, Senator Olorunnimbe Mamora was the second name from Lagos.
Described as having got power-drunk at the height of his governorship, Ambode laboured to get the ticket for a second term but was rebuffed to the consternation of political observers who felt strongly that he performed excellently in office. Sources in the presidency said the President felt likewise too and actually reached out to the National Leader of the All Progressives Congress, APC, and godfather of Lagos nay southwest politics, Asiwaju Bola Ahmed Tinubu to ensure Ambode was returned but it was too late as the political leaders in the state had made up their mind, it emerged.
Ambode had fallen apart with the man who gave him life and made him governor, Asiwaju Bola Tinubu, which necessitated a shift in the direction of the incumbent Governor, Babajide Sanwo-Olu. The former governor was asked to step down for Sanwo-Olu but he refused and dared all. He contested the primaries, but lost out in the political game to a superior political 'field marshal.'
After he was forced to accept defeat, using impeachment as a threat, Ambode, in a broadcast on Lagos Television conceded defeat to Sanwo-Olu, but many political pundits and APC stalwarts accused the former governor of working for the opposition to undermine the chances of the party in Lagos.
Ambode's body language all through the campaign of Sanwo-Olu showed that he was still very bitter, as he rarely took part in the campaign unlike what his predecessor, Babatunde Fashola did for him.
While major campaigns were ongoing in Lagos, Ambode was busy gallivanting with Buhari everywhere in his campaign for a second term. The former governor spent most of his time in Abuja with Buhari in the hope that he would be giving a ministerial slot or the Governor of the CBN position. With the renewal of Godwin Emefiele's tenure, the hope for Ambode was pegged on being a minister and his disciples' hope was elevated.
Prior to this, bigwigs in the Lagos APC, who were still very bitter with Ambode for humiliating and treating them so badly vowed to truncate his ministerial ambition. They said they were waiting for the magic he would perform to emerge as minister from Lagos where he had offended so many people.
Alas, they had their way. Ambode lost out in his ambition to become a minister in Buhari's cabinet. It was indeed a sad day for his followers. At the Lagos Government Secretariat on Tuesday, Ambode's misfortune was in the mouth of civil servants. While some sympathised with him, others were happy at his debacle.
Right now, Ambode is in dilemma. Aside ministerial position, as a former governor, he cannot accept anything less, which will be dehumanising and downgrading for a man of his status. No former governor has ever descended so low as to accepting a position less than a minister and Ambode will not want to set a record.
But there is only one hope for the former governor, which is to become one of the Ambassadorial nominees. That will take him out of the country and make him answerable only to the president. That will accord him the prestige he so much desires. But will he get it?