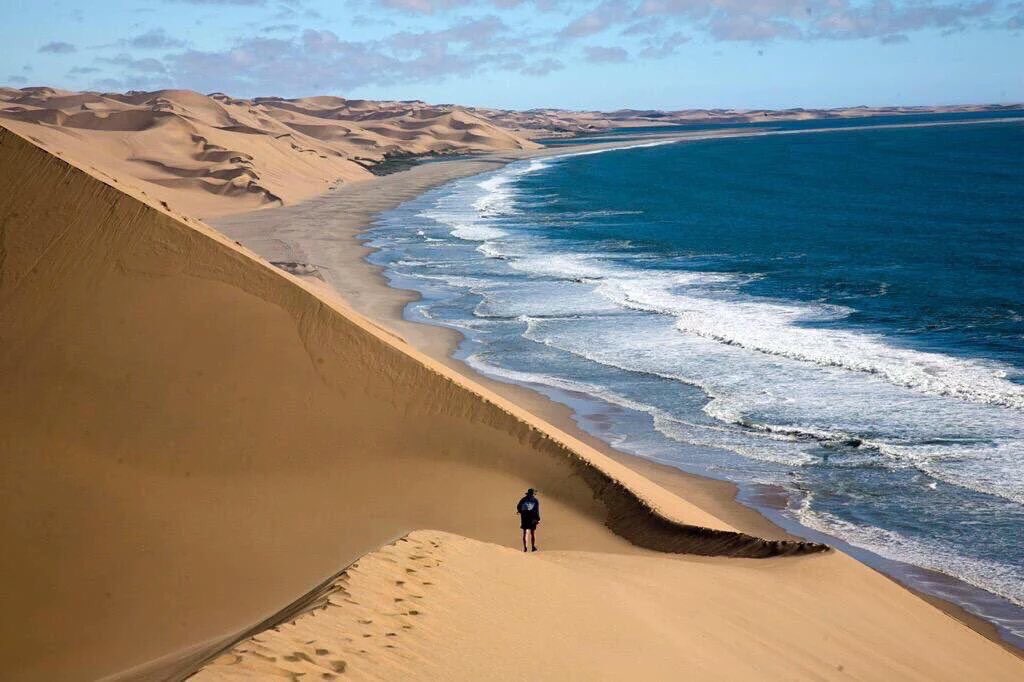 The Southern Namib desert is home to some of the tallest and most spectacular dunes of the world, ranging in color from pink to vivid orange. These dunes continue right to the edge of the Atlantic Ocean. The cold waters of the sea brushing against the dunes of the Namib desert is one of the most surreal sights.
While the sea coast extends for hundreds of miles, one of the best places to see these dunes is at Swakopmund. Known as Swakop in Namibia, it is the country's biggest coastal town and a mecca for Namibians on holiday. The city's German origins are quite pronounced in beautiful old German Colonial buildings throughout the city, making an even starker contrast for this town sitting at the edge of the Namib Desert.
From here, helicopter ride is available that flies you around the Skeleton Coast and the Namib desert in general.
The Namib is a coastal desert in southern Africa. The name Namib is of Nama origin and means "vast place". According to the broadest definition, the Namib stretches for more than 2,000 kilometres (1,200 mi) along the Atlantic coasts of Angola, Namibia, and South Africa, extending southward from the Carunjamba River in Angola, through Namibia and to the Olifants River in Western Cape, South Africa.
The Namib's northernmost portion, which extends 450 kilometres (280 mi) from the Angola-Namibia border, is known as Moçâmedes Desert, while its southern portion approaches the neighboring Kalahari Desert. From the Atlantic coast eastward, the Namib gradually ascends in elevation, reaching up to 200 kilometres (120 mi) inland to the foot of the Great Escarpment.Annual precipitation ranges from 2 millimetres (0.079 in) in the most arid regions to 200 millimetres (7.9 in) at the escarpment, making the Namib the only true desert in southern Africa. Having endured arid or semi-arid conditions for roughly 55–80 million years, the Namib may be the oldest desert in the world and contains some of the world's driest regions.