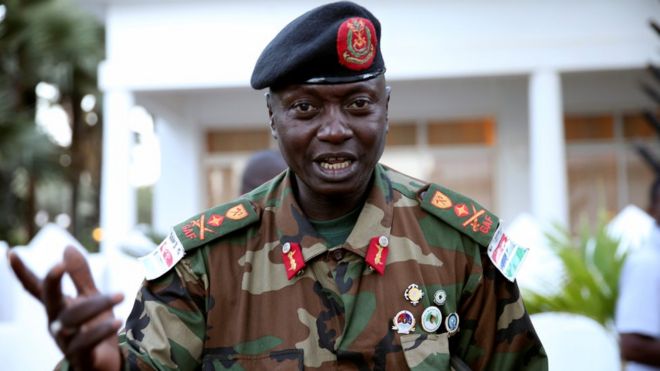 Gambia's army chief said Wednesday he would not order his men to fight other African troops if they enter Gambian territory, speaking as Senegalese and other troops massed on his nation's borders.
The Senegalese troops backed by other African forces are on standby to move into The Gambia as President Yahya Jammeh approaches a midnight deadline to stand down or face military action after refusing to leave at the end of his term.
"We are not going to involve ourselves militarily. This is a political dispute," Chief of Defence Staff Ousman Badjie said, after eating dinner in a tourist district close to the capital, Banjul, eyewitnesses told AFP.
"I am not going to involve my soldiers in a stupid fight. I love my men," he added, stopping to pose for selfies with admirers while dressed in fatigues, beret and green t-shirt, according to those present.
"If they (Senegalese) come in, we are here like this," Badjie said, making a hands up to surrender gesture.
Badjie is no stranger to controversy after appearing to declare support for president-elect Adama Barrow and then switching back to Jammeh.