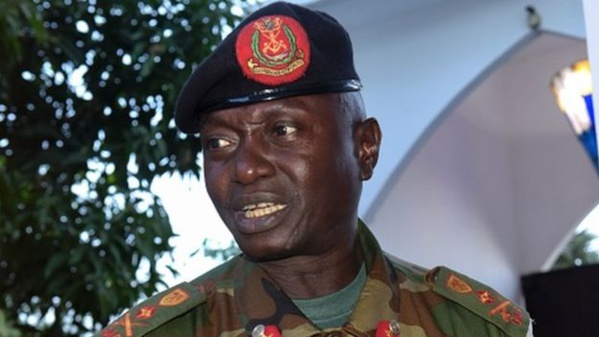 Gambia's army chief, Ousman Badjie, has said he would not order his men to fight other African troops if they enter the Gambian territory.

He spoke on Wednesday, January 18, as Senegalese and other Economic Community of West African States (ECOWAS) troops are stationed on The Gambia's borders.
The West African troops are on standby to move into The Gambia as President Yahya Jammeh approached a midnight deadline to step down or face military action after refusing to leave at the end of his term.
The Chief of Defence Staff (CDS) Ousman Badjie has said that he will welcome the

#

ECOMIG

forces with a cup of tea if they are to advance into the capital if talks with the ex-president and rebel leader Yahya Jammeh fails.
Negotiations have resumed with the ex-president & rebel leader Yahya Jammeh who is believed to be joined by the former vice-president Isatou Njie Saidy after a break for Friday prayers with Mauritania's president Mohamed Ould Abdel Aziz and Guinea's Conde.