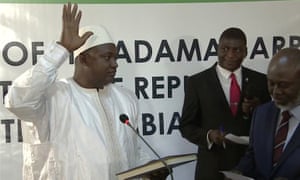 A new Gambian president has been sworn into office in neighbouring Senegal while the Gambia's defeated longtime ruler refuses to step down, deepening a political crisis in the west African country.
Adama Barrow was inaugurated on Thursday in a hastily arranged ceremony at the Gambia's embassy in Senegal. The embassy room held about 40 people, including Senegal's prime minister and the head of the Gambia's electoral commission.
A huge TV screen broadcast the swearing in ceremony to several hundred people watching outside. "This is a day no Gambian will ever forget," said Barrow, dressed in a flowing white robe.
The UN security council was set to vote later on Thursday on a draft resolution endorsing the west African regional force's efforts to remove Jammeh.
Jammeh was at his official residence, State House, in Banjul, the Gambia's capital, and intended to stay there, said an official close to the administration. He added that the regional force would have to arrest him there.
Many of Jammeh's loyalists at State House will resist, the official added. But the Gambia's army, estimated at well below 5,000 troops, is divided over its loyalties to Jammeh, and those not sympathetic to him will not leave until they are invited by the new government, the official said.
The African Union earlier announced that the continental body would no longer recognise Jammeh once his mandate expired.