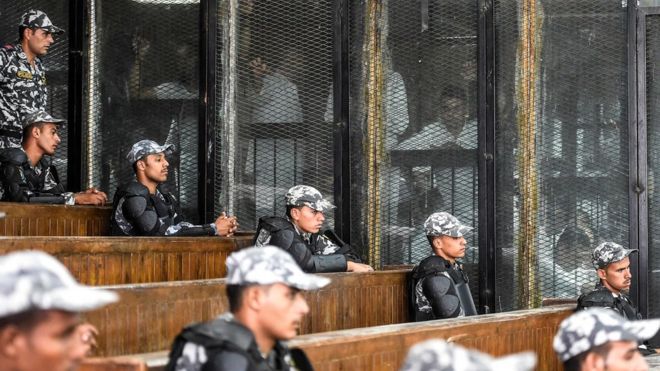 An Egyptian court has sentenced 75 prominent members and affiliates of the Muslim Brotherhood to death, as part of a mass trial that included 739 people charged after the violent dispersal of a protest camp in support of former Egyptian president Mohamed Morsi in 2013.
Most of the protesters who died in the dispersal at Rabaa al-Adawiya square in Cairo were pro-Morsi protesters and Brotherhood members and affiliates. They had staged a sit-in days before Morsi was ousted by Abdel Fatah al-Sisi in a military coup on 3 July 2013 and continued the protest until it was violently dispersed on 14 August 2013.
The 75 were given the death penalty for offences ranging from murder to incitement to break the law, membership of a banned group, or being part of an illegal gathering.
The verdict, by judge Hassan Farid el-Shami, was announced on Saturday in Cairo's heavily fortified Tora prison courthouse after a trial Amnesty International has condemned as "a grotesque parody of justice".
Among those who received death sentences were senior Muslim Brotherhood leader Essam el-Erian, politician Mohamed el-Beltagy, Salafi preacher Safwat Hegazy, former youth minister Osama Yassin and cleric Abdel-Rahman el-Barr.
The court also sentenced the Muslim Brotherhood's supreme leader, Mohammed Badie, in addition to 46 others, to life in prison.
Five defendants died during the legal process. A total of 374 defendants, mainly Morsi suppporters, were given 15 years in detention. Osama Morsi, the son of the detained former president, as well as 22 others, was sentenced to 10 years. All the verdicts can be appealed.
The judge also sentenced 215 defendants, including photojournalist Mahmoud Abu Zeid, known as Shawkan, to five years, causing dozens of defendants in the soundproof cage to rejoice.
"He [Shawkan] already spent five years, which means he will get out," lawyer Karim Abdel Rady wrote on Twitter, adding that despite his impending release, Shawkan would be on probation for another five years.
"Assuming that they [Shawkan and the other 214 defendants] have not been sentenced in other cases or that they are not held in pre-trial detention in other cases, they should be released," Amnesty International's Egypt campaigner, Hussein Baoumi, told the Guardian.
"This raises an important point, which is the practice of prolonged pre-trial detention, which is so commonplace in the Egyptian legal system and effectively [renders] defendants in Egypt guilty until proven otherwise," Baoumi added.
Several of the defendants, including Shawkan, has already spent five years in detention, two years were spent during the prosecution's investigations. Shawkan, who was arrested in 2013, went to cover the raid on the protest camp at Rabaa for the UK-based photo agency Demotix.
He was frequently pictured during the trial posing as though holding a camera in the defendants' cage, an attempt to demonstrate to the world that Egypt had incarcerated a journalist for doing his job. Egypt is ranked 161 out of 180 countries for journalistic safety and freedom of the press by Reporters Without Borders.
The final verdict ended a prolonged period of pre-trial detention, long past the two-year legal limit in Egypt, amid a crackdown on the Muslim Brotherhood group as well as all political opposition to the rule of Sisi.
"The trail from the start lacked any standards of a fair trial. This is a classic example of why Egypt needs to abolish the death penalty," said Baoumi.
Saturday's case is one of the dozens that were brought after the Rabaa massacre, with thousands of Brotherhood members and affiliates accused of committing acts of terrorism and violence.
Outside the courthouse, a female relative of Yassin, who was sentenced to death, said the verdicts were "absurd and unfair … They were the ones getting killed in Rabaa, yet they are the ones now being trialled and given death sentences".
Baoumi said that the court had not approved all the requested witnesses. "The defence wanted to summon around 230-240 witnesses, but the court only approved 50-60 witnesses. He added that the "judge refused to admit into evidence several CDs that were were favourable to the defence".
Human Rights Watch estimates that at least 817 people were killed on 14 August 2013, when Egyptian security forces attacked the camp at Rabaa al-Adawiya square in Cairo, in an act the watchdog labelled "likely crimes against humanity".