A shocking scenario pervaded the entire precinct of the popular Lagos 3-Star hospitality outfit, De Santos Hotels.
A Nigerian hotelier from Igbo extraction

Mr Anthony Ezeunara

De Santos Hotel Boss
was executed in Indonesia on Thursday for being in possession of 158kg of cocaine,
The Nigerian Hotelier And Owner of Santos Hotel In Akowonjo And Awka Executed In Indonesia For Cocaine Trafficking

This is the last moments of a Nigerian who was caught in possession of 158kg of Cocaine in Indonesia. His name will not be mentioned here for legal reasons but he hails from Anambra state in Eastern Nigeria and is said to be a hotelier in the commercial city of Awka where he owns one of the best Hotels.
The game was up for him early Thursday Morning as Narcotics police following a tip-off intercepted him in Jakarta red-handed on his way to close a deal.
Without hesitation, his arrangement before a court was done where he was found guilty & promptly executed. Countries like Saudi Arabia, Indonesia, Malaysia, China to name a few don't mess about with Drug trafficking. If you are caught you will be summarily executed no begging, no appeal, no diplomatic interventions, no Nothing.
Ironically its these countries that offer the most rewards for the drug traffickers, that is probably why they find it so hard despite the risk to stay away. The rewards are too tempting.
According to report trending online, the man who is from Anambra State built a beautiful Hotel in Awka which was opened last year November.
"De Santos Hotel Chairman has no business interests in Indonesia. His businesses cut across aluminium, real estates, hospitality and farming and are all based in Nigeria.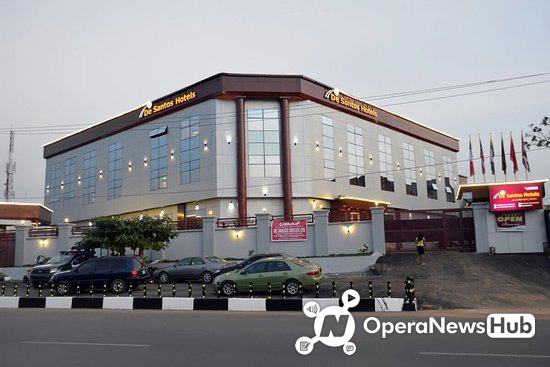 He floated his first company, Tonnel Investments, Ezeunara has been able to grow his business and expands into hospitality with chains of hotels —De Santos Hotels, Akowonjo been his first.
He recently opened another branch of De Santos Hotel in Awka, Anambra State and plans are in top gear to expand to Enugu and Abuja among other places in Nigeria