According to Isa Sanusi, a BBC Africa correspondent, he was asked to sign an undertaking at a hotel in Kano where he checked in indicating that he would not commit adultery. Single women are not allowed in this hotel in and guests (male guests obviously) have to sign an undertaking declaring that any female companion is the Mrs.
Sharia law was introduced to Kano Sate in 2000 (only Muslim residents are bound by it) and forbids alcohol, gambling and prostitution. Therefore, guests at most hotels are required to sign some sort of statement (like above) because of random raids by the Hisbah – the city's Islamic police force who assume unaccompanied single ladies are prostitutes and search them out in hotels.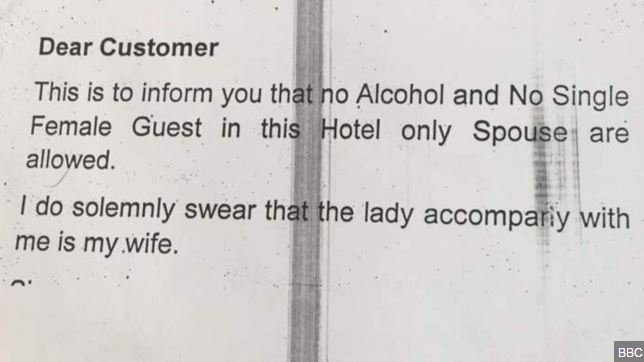 Is there an increased frequency of Alhajis from Kano to Lagos and Abuja? Just thinking out loud because one way or another, alayes must get some.
Via-
BBC Africa