Pakistan's Aviation Ministry said the flight from Lahore was carrying 99 passengers and 8 crew members.
The 11 bodies were taken to Jinnah Hospital, according to hospital spokesperson Seemi Jamali. It is unclear if those fatalities were victims from the ground or the plane.
A bank manager and at least one other passenger have been pulled alive from the wreckage of an Airbus A320 which crashed after an engine failure in Pakistan today with 108 people on board.
Bank of Punjab president Zafar Masood was dragged from the smoking debris of the Pakistan International Airlines flight after it smashed into a residential area in Karachi today.
Pakistani officials said two people had survived the crash while local TV said there were three survivors who had sat at the front of the plane, but the other 105 passengers and crew have died.
'Thank you so much. God has been merciful,' the banker said, according to officials who spoke to him in hospital after the crash.
Witnesses said the flight from Lahore had made three failed attempts to land at Jinnah International Airport before ploughing into the Model Colony area of the city on a fourth landing attempt.
The pilot told air traffic control that he had lost both of his engines and a recording has emerged of the captain making a final mayday call before the crash. The Airbus A320-214 model uses a CFM56 engine made by CFM International, a joint venture between US-based General Electric and France's Safran.
Videos uploaded on social media purport to show the plane's final moments as it hurls downwards at alarming speed amid the shrieks of terrified residents. Witnesses say the plane was so low they felt the walls of their houses tremble and saw the plane tilted on one side.
Plumes of billowing smoke smothered the skyline after the Pakistan International Airlines plane smashed into houses among the poor and densely populated area of Model Colony that is two miles from the airport.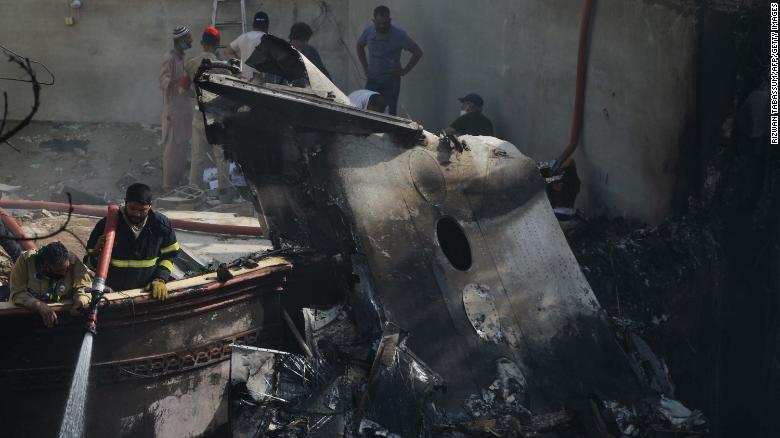 Footage showed scenes of chaos with burning rubble and plane debris was strewn across the area as hospitals ready themselves for a flurry of victims and the Pakistani Army desperately hunts for survivors. The Prime Minister has pledged to hold an 'immediate inquiry' into the crash.
The Airbus had been flying from Lahore to Jinnah, which usually takes 90 minutes before it went down in the Model Colony area as it began its final approach to land at Karachi airport.