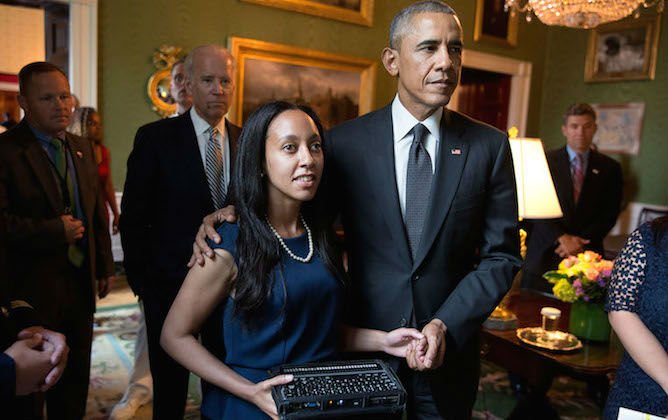 When you get ready to complain or think of an excuse about why you can't do or accomplish something, think of Haben Girma. You just might find that her story gives you the inspiration you need to push through.
Girma is the first deaf-blind student to graduate from Harvard Law School. Now, the Eritrean-American woman is fighting for better access and education for other deaf-blind people around the world.
Haben Girma, Harvard Law School Graduate Class of 2013
In a speech she delivered at the White House, Girma
shared some of her family's story
. In Eritrea, when Girma's grandmother took her older brother to school, they told her that deaf-blind children could not be educated. It was impossible.
At 16-years-old, in the midst of Eritrea's 30-year-war, in their fight for independence from Ethiopia, Girma's mother walked three weeks, through Eritrea's deserts until a refugee organization helped her immigrate to the United States.
It was there, in the U.S. that Haben Girma was born. Like her brother, she too was deaf and blind.
But in the United States, there was a different attitude toward educating children with disabilities. And, as you might imagine, that made all the difference.
Haben, now 27, used her access to her education to make her way to and eventually graduate from Harvard Law School.
"Graduating from Harvard Law School says a lot about what can be done when you have the right attitude."
She was able to do this by using a digital braille display and a QWERTY keyboard for communication.
In a visit to the White House earlier this year, celebrating the passage of the Americans with Disabilities Act, President Obama used the technologies to communicate with Girma.
Girma said "That sends a very empowering message. It reminds the rest of the United States and the rest of the world that having an inclusive attitude ensures that people with disabilities can contribute their talents to society.
She's now a lawyer who works to ensure with the Disability Rights Advocates in California to ensure that other students don't face the challenges, with lack of technology.
This is such an amazing story and a reminder to us all about the importance of a positive attitude, determination and inclusion.
With education, she thrived, and set off after graduation to Lewis & Clark College in Oregon. But there, a seemingly minor problem in the cafeteria line made her realize not to take for granted the civil rights protections provided under the ADA.
Because she couldn't tell what was available, she would walk up to a food station and take whatever she was given. She wanted to be able to choose; after all, she recalled thinking, "What if there was chocolate cake at Station Four?" The food service manager agreed to e-mail menus for her to print on aBraille reader, but the task was often forgotten or ignored.
At first, Haben was reluctant to push the issue, especially knowing the deprivation her family had faced in a war-torn country. "I'd grown up hearing stories about the war in Eritrea, limited resources, people struggling to survive. It was hard for me to make a fuss about access to cafeteria menus," she says.
"At the same time, I realized after months of not getting access that if I didn't do anything, other students with disabilities would face a similar barrier." She took the bold step of telling the cafeteria managers that accommodation was required by the ADA, the response immediately improved, benefiting both her and a blind student who attended the following year.
The experience showed her the importance of enforcing civil rights laws and sparked her interest in becoming a lawyer. Today, she works for Disability Rights Advocates, a California-based law firm, helping others fight for their rights under the ADA. Haben Girma's brother also received an education thanks to IDEA and the ADA, and for her family both in the US and abroad, the help they received is nothing short of miraculous; her grandmother, who still lives in East Africa, says it "seemed like magic."
But Girma knows that its legislation that gave her the chance to succeed. As she said to the crowd at the White House, "people with disabilities succeed not by magic but from the opportunities afforded by America and the hard-won power of the ADA."
Click to watch her video: